With tan lines, give the sexiest look to your doll forever !
We are delighted to introduce our brand new option : tan lines for our dolls !
This option is now available for any order of a new doll only. Indeed, we must make the lines right after unmolding of the body, before any other finishing work. It is therefore not possible to add this option to existing dolls.
We can make various shapes (panties, thong, bikini, bra …). The final look of the lines may be more or less neat, depending on your preference. For these lines to be visible, avoid selecting the white skin tone for your doll. Choose either the medium or the bronze skin tone, because in the end, it is the white color that we will apply for the tan lines. As a result, white lines on a white skin would not be clearly visible.
Tan lines do bring a sexy look to our dolls ! And with her, you will have a taste of summer all year long.
We make tan lines on quotation, but for the classic forms, count 300 € incl.VAT for the bottom (panties), and 500 € incl.VAT for the top and the bottom (panties + bra).
When ordering, send us photos for the shapes you want, and we will reproduce them with joy on your doll !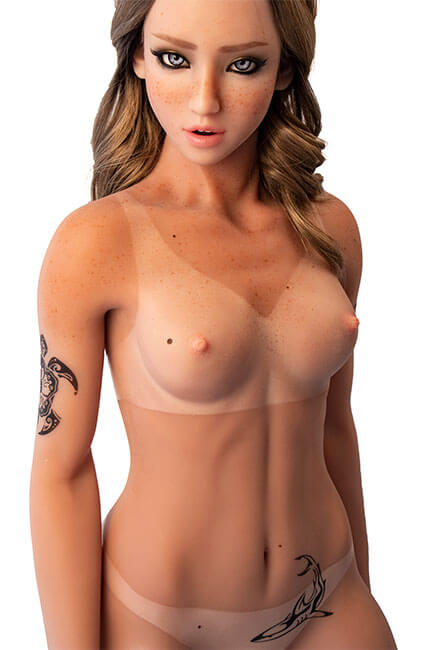 On the doll presented here, Lucy has a bronze skin tone, with neat lines, in the shape of a classic thong for the bottom, and a fitness top for the top, at the price of 500 € incl.VAT.